As most of you know from my blog, I love to thrift. I end up finding the coolest pieces for my home, the most unique fashion finds, and awesome organizational tools (another post to come about this!). I thought I'd wrap this summer up with a mini series on thrifting: tips and suggestions about thrifting, my favorite thrifting finds, and the best items to thrift.
There are a few places that I love to shop. I know which places have the best prices and are the best for finding certain items. In my area we have some great Goodwills, Salvation Armies, St. Vincent DePauls, and a Valley Thrift that I like to shop at. We also have a few amazing vintage stores. One in particular that I love is called Casablanca Vintage. It's fab! And, of course, we have some great antiquing fairs in the summer!
Based on the stores that I shop at, here are some tips that have helped me in my thrifting endeavors. Hopefully, they'll be helpful to you as well!
General Tips
Shop the sales. Yes, thrift stores have sales!
I know that prices at thrift stores can be low; however, you'd be surprised at some of the prices I've seen at some of the second-hand shops I shop in. And what's even better is to get low thrift store prices at even lower prices! You'd be surprised how many items that you can get for 50 cents or $1 or $2 with a good sale!
Goodwill
For example, Goodwill puts out a monthly calendar that will show all the sales and discounts for the month. They always have days throughout each month (usually more than one) where everything in the store is 50% off. Other days certain items in certain departments (women's clothes, books, purses, etc.) will be a percentage off, or items with specific tag colors. Make sure you check the calendar at your local Goodwill. Sometimes the sales at different Goodwills vary.
Sales are usually posted when you walk in the store on a big white board. Make sure you check there first so you are saving money when you shop!
Salvation Army
There is one Salvation Army in West Chester where every colored tag is 50% off (everything in the store) on Wednesdays. You're getting 50% off your entire purchase that day, and that store, in my opinion, has particularly high prices compared to other Goodwills that I shop. So in that instance, it would be smart to shop the 50% off sale. There's a great one in Norwood too.
St. Vincent DePaul
In Evendale there is a great St. Vincent DePaul where every Tuesday is 75 cent day. Women's clothes with red tags are 75 cents. I mean, seriously! Now this store is small compared to most thrift stores. It's jammed-packed with stuff that you really have to look through. The aisles are super close to each other, but some of my most awesome finds of the summer are from this store :)
Keep these ideas in mind while perusing the inventory of each store:
Patience
Thrifting is all about patience. Seriously. If you are not in the mood to sift through a load of junk to find a few gems, don't go thrifting! If you get easily frustrated by looking through racks that are not always organized, don't go thrifting! Thrifting is not your average shopping trip, so don't expect to run in and out with what you went in looking for. You probably won't come out with it, and you'll probably be in the store longer than expected. You also may leave a store with nothing! Don't feel discouraged. Thrift store inventory continuously changes, so check back often!
Shop with a List
Of course it's great to go thrifting and just happen to find great items on the fly when you're not expecting it, but I always have items in mind that I'm looking for while I shop. I keep a note on my phone, a running list, of items for which I'm always on the look out. That way, if I happen to find one, I can snag it up!
Having a list to work from and then being surprised by a few purchases is a good way to shop. After all, you do never know what you're going to find when you walk into a thrift store! Being surprised is great, but having a list also keeps you from buying oodles of items that you don't need! It keeps you focused!
Here's my current list:
Vintage suitcases (my mom used to have one like this!)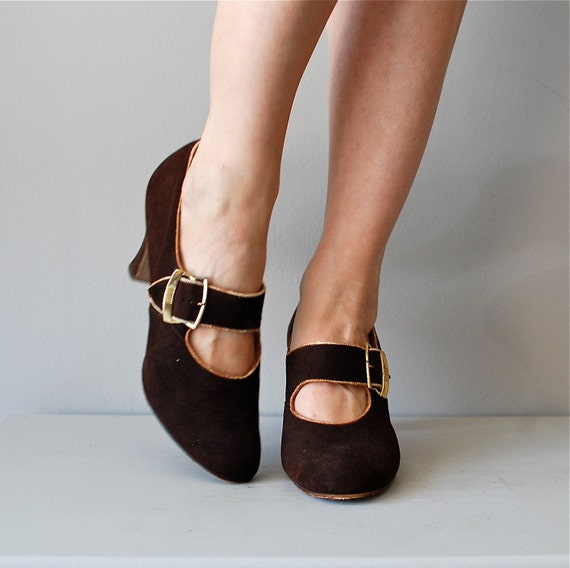 Slips (to wear under vintage dresses). I have nude, white, and black. Now I'm looking for color!
Vintage Cape (and I would seriously loose my mind if I found one!!)
Shop with an Open Mind!
Things at a thrift store are probably dirty. A cup can be cleaned. A shirt can be washed. I buy slips from the thrift store. I just wash them. They are majorly. Yes, this is coming from the OCD person. Don't overlook something just because it needs a little TLC. If you're not willing to get something hemmed, taken in, get a button fixed, etc, don't buy it! You won't get it fixed, and then it will just sit unloved in your house. You'll regret it and end up donating it back to the same place you got it from! If you can see the potential in items though, you'll be surprised at what you can find. And remember, you own soap!
Try Things On
Along with having an open mind, trying clothing items on really helps. This jacket looked a hot mess on the hanger! My sister told me I was crazy picking it up! She told me that it looked like a clown car puked all over it. But for some reason, I had this feeling that it would look differently once I had it on. With a crisp white tee and some neutral pants, I thought this blazer would look snazzy :) If you're not sure about something, try it on! Sizes run differently too in vintage items. If it doesn't work, just put it back!
Don't Buy Something Just Because It's Cheap!
I think this speaks for itself. Don't spend money just because. Think about whether or not you're really going to use it, wear it, love it! If not, put it back. Leave it there for someone else!
I hope these tips help you in your thrifting journeys!
Do you have any good thrifting tips?