First off, I know it's not Tuesday, but I really wanted to get this post up this week! So here it is! It's been a busy few days. The time I thought I had to get this done Wednesday escaped me, so here are my finds from the past few weeks!
But before I get into those, I officially wanted to announce the winner of my 100th Post Giveaway! The winner is Amanda over from Third Grade Fabulous! She is my June/July Slantbox partner, and I am sending her a super-fun box of goodies for our summer teacher swap soon! You can check that swap out over at Lessons with Coffee if you're interested! I was so excited to send Amanda her prize, that I forgot to take a picture of it before I mailed it! So, I am going to borrow Amanda's picture of the prize once it made it to her place!
And now on to this week's installment of Tried It Tuesday...
Food
Chobani Yogurt
I tried two new flavors of yogurt this week. I know, super exciting! ;) They were both Chobani yogurts. I found them both at Fresh Market. They are new flavors for Chobani too. The first one was--get this--watermelon! And, oh my goodness, it was amazing!!
This yogurt has just a subtle hint of watermelon, and it's so smooth and creamy. The color is so beautiful too. It's a beautiful light pink color. This is probably my new favorite yogurt flavor. It's a limited batch summer edition, so go find some before it's all gone! I'm going to run and get some more! These were on sale at Fresh Market for $1.
I also tried one other new flavor from Chobani. It was Pineapple Coconut:
I love Chobani because it's yogurt that doesn't taste like it's full of sugar and artificial flavors. They make it from natural ingredients. The flavors aren't overpowering either. This one has a subtle taste of coconut and pineapple that is very nice. My only complaint is that there are small chunks of shredded pineapple mixed into the yogurt. I am not a fan of having chunks in my yogurt, but that is a personal texture thing, I think. The flavor is really nice.
Chobani has a few other new flavors out as well. To view them, click here.
Roasted Chicpeas
Bjorn and I also tried a new snack this past week. We roasted our own chickpeas! Admittedly, I am not a big popcorn fan. I hate getting popcorn kernels stuck in my teeth and my throat. I don't like having to wipe off my greasy hands after every other bite of popcorn too. The taste of popcorn is less than desirable to me. It's just not my favorite. Bjorn, however, does like popcorn. He always forgets that I don't like popcorn when we have movie nights. I think he gets excited because he asks me often if we can make popcorn. I have nothing against him making popcorn; I think he doesn't want to make a big bag of popcorn just for himself.
So...instead of popcorn for movie night, we made this:
All you do is take some canned chickpeas (we use reduced sodium), drain them, season them, and roast them! I am linking our recipe below! Next time we're thinking of using curry powder. Let me just say that these only lasted about 20 minutes into the movie!
Beauty
Coconut Water Spray
I love organix hair products. I use their hair paste to make my hair have that messy feel to it when I style it :), and I recently repurchased a product that I haven't used in awhile. I forgot how much I love it! It's Organix Weightless Hydration Coconut Water and Coconut Oil Spray.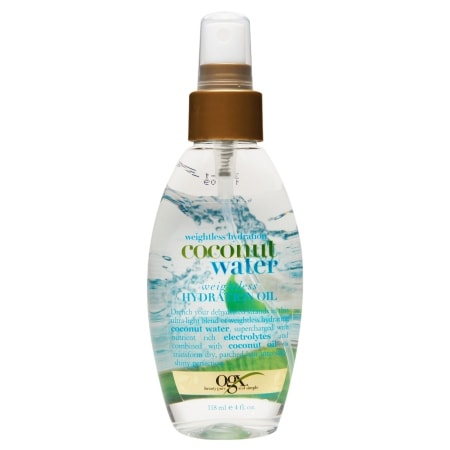 I love this spray. Sometimes in the summer with the humidity and my short hair, I get flyaways at the base of my neck. I spray this on my damp hair and then blow dry or air dry. It keeps my hair smooth and makes it shiny! Once I'm done blow drying, sometimes I spray a little extra to add a little extra shine. I used to use the one with bamboo extract. That was a little more oily for me, though. I like this one better mixed with the coconut water, no bamboo extract. I picked this up at Walgreens. It's much lighter.
Home
I love Bath and Body Works candles, but I only buy them when they're on sale and I have a coupon :). Last week, I stopped in to see if they had my London Calling candle on sale (they usually do this time of year) because I had a 20% off coupon. They did at 1/2 off, but I also found one other new scent that I like that was also 1/2 off! It's called American Boardwalk. It smells like freshly cooked kettle corn! Now I know I said I don't like popcorn, but I have to say, I will eat fresh kettle corn if it's around!
I'm not sure if they have any left, but if you see any at your Bath and Body Works, check it out! It smells wonderful!
Television
I am seriously in love with the show New York Med. Does anyone else watch? I watched last season, and this summer, besides So You Think You Can Dance, it's really the only show I really watch! (Oh, besides catching Good Morning America when I can in the morning, since I can't during the school year!) The show follows the happenings of ER doctors, nurses, and surgeons in Manhattan's New York Presbyterian Hospital and Newark's University Hospital. Not only do you get to see the doctors and surgeons deal with their patients everyday, but you get to know them and who they are as people. I love the doctors and their stories, and they truly are kind and caring people. If you haven't seen it, you should watch it! It's on Thursdays @ 10 pm on ABC. Here is a link to the New York Med page on ABC. On this site you can watch previous episodes of the show.
Here's a link to an article in The New York Post about one of my favorite doctor's on the show, Dr. Debbie Yi, and why she became a doctor.
Music
I love Sam Smith. On the way home the other day, I heard him cover Whitney Houston's "How Will I Know" on Sirius XM. Oh My A.MA.ZING. I don't even know how to begin to describe this. You just have to watch this and fall in love with him again :).



Ok. I love Lionel Richie. I love Darius Rucker. I found this gem from Lionel's "Lionel and Friends" Concert. Lovely.
Have you tried anything fun this week?
Love and happiness <3 Holly