This week's Tried It Tuesday is really "Tried It Wednesday," but that doesn't sound fun! So-the title's not changing. Today was migraine city up in here, so we'll just ignore the fact that it's really Wednesday, that I can't sleep, and that I have to tutor in eight hours and counting. Seriously, I don't know what is with me lately! I really do love writing these Tried It Tuesday posts, though, so I am not letting one fall by the wayside!
This week, I don't have a lot of things to tell you about, like I have usually, but I do have a few fun finds to share! Happy reading!
Sweet Treat
I am not a big candy person. I prefer a nice desert--tiramisu, creme brulee, ice cream, etc. My husband, Bjorn, does, however, like candy. He's a big Red Hot and Swedish Fish lover. I can eat one or two and then I just feel this weird sugary take-over feeling throughout my body. I just don't like it.
My husband calls himself a beer snob; I guess you can call me a dessert snob. The other night, we ran by Walgreens to pick up a few quick toiletries that we realized we were out of at the last minute. You know, toilet paper, nothing important or anything. We decided to also pick up a little something for dessert. Walgreens is not my idea of the best place to pick up a "my-kind-of dessert," but I made due. I picked up a dark chocolate Reese's cup, and Bjorn convinced me to try this black licorice: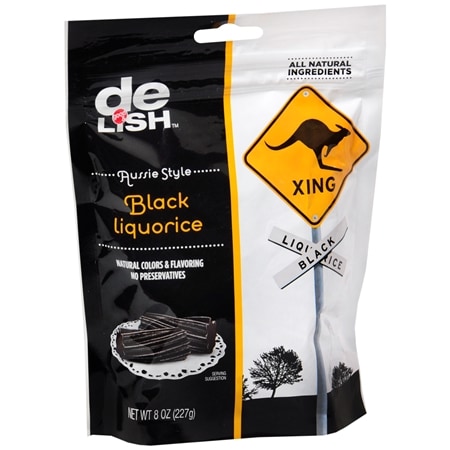 It's called Delish Aussie Style Black Liquorice. Now I am normally not a black licorice fan. My mom and grandma ate it growing up, and I always thought it tasted disgusting. I don't know what I didn't like about it. The kind my mom always bought had a strange bite to it coupled with an overdose of sugary sweetness, and I just couldn't stomach it.
This black licorice is delicious! It doesn't have too sharp of a bite (for black licorice), it isn't too sweet, and it has this great subtle flavor. We found it hanging in the candy isle at Walgreens.
Movies
Bjorn and I have watched a few really great movies lately. We've been wanting to watch these two for awhile, but just kept forgetting to watch them!

The Monuments Men
Fabulous move!! So many good actors! I love this story. I love German history. Definitely a must see. It's not a battle-filled, action-packed movie, if that's what you're looking for. This movie is based on the story of the Monuments Men and of their passion to save the world of its culture and history that was being stolen and destroyed by the Nazis.
Enough Said
Wow, did I love this movie!! I think this is one of my favorite movies of all time! It is funny, witty, sweet, touching, and so well-written. You have to watch this movie. Bjorn and I loved it!
Jewelry
I love kooky earrings. I have all different kinds: umbrellas, pigs, bicycles, buttons, cameras, and I recently picked up these adorable fish earrings from Target. Aren't they cute? They make me think of Koi fish. I do love my kooky earrings! These were $7.99 at Target.
Source
School/Office Supply
I also picked up some new mechanical pencils this past week, and I'm really enjoying them. (Remember, I am a teacher!) Lately whenever I use my mechanical "normal" pencils, I press too firmly and end up breaking all my lead. It was starting to annoy the poo out of me! Supposedly, these pencils have stronger lead, are easier to hold, and are more comfortable to write with! We shall see, pencils. They're pretty cute looking to. I will let you know the final verdict, but I really like them so far!
On Amazon.com these pencils are $3.99 for a pack of 8. I got mine at Target for $2.29.
That's all I've got for this week! Happy Tuesday (now Wednesday)!
Have you tried anything new this past week?
Don't forget to enter my 100th post giveaway where you could win a $25 giftcard to Target and some of my favorite Tried It Tuesday goodies! Click here to enter!
Love and happiness <3 Holly