Over the summer, I was paired up for my super, fun-filled teacher swap with Arielle over at Technically a Media Specialist. Her blog is so stinkin' adorable! I love reading about all the cool technology she uses and wish I knew how to do so much! She inspires me to want to bring so much more awesome technology in my classroom! And we both learned that we have so much in common! I have had some amazing swap partners these last few months, who I know I will talk to long after our monthly swap is over :) I am so lucky to meet such lovely ladies through Slantbox exchanges!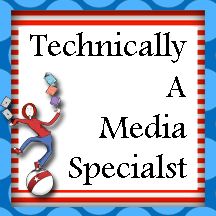 Arielle's Blog Button (link)
The theme for the Slantbox Swap in June/July was to send your partner a box full of Sunshine. Arielle packed my box full of bright colored items as well as things that would bring me personal sunshine. Let me just tell you, my box is amazing!!
If you're unfamiliar with the Slantbox Swap, you can check it out here on Jameson's blog Lesson's with Coffee. September sign-ups are open until September 3rd! It's super fun!
So here's what Arielle sent me in my box:
Here's the adorable card she sent. Dr. Suess makes me smile!
We both have dogs, so she knows how to make my puppies smile! They love this toy/treat! They've been taking turns playing with it :)
I am a fashion and jewelry lover, and these earrings are ones that I would've picked out myself! They are so bright and cheerful and too cute to boot! I LOVE them! I've already worn them and know they will get worn a ton more!
I am so excited that Arielle included this book in my box! I have been wanting to read this so much! I know it will have me laughing my tail-feathers off!
I absolutely love this saying. I recently bought a picture of this to hang in my house so that I could see it every morning :)
These stickers are to brighten mine and my students' days!
And I love these sunny paperclips! They are so adorable! They did NOT stay in the package long! I kept these at home for myself and have been using them for everything! I <3 them!
Arielle, thank you so much for my amazing SLANTbox! I LOVE it! You know me so well! It was so thoughtful! So happy to have been paired up with you and to have gotten to know you over the summer! :)
Educator friends, think about joining the September Slantbox swap!
Love and happiness <3 Holly